Give the gifts of balance, love and support this Valentine's Day. Because true health and true love are everlasting.
Always on the go, Vata dosha is soothed with physical supports such as pillows and blankets. Vatas will love the hugging comfort and swaying movement of this cute hammock, handmade in Masaya, Nicaragua by Veronica Colindres.
$75.00

Practitioner Monica Yearwood of Hamsa Ayurveda in Chicago, IL crafts authentic Ayurvedic oils and serums in addition to teaching yoga and seeing clients. This perfume contains rose, amber and pink peppercorn. It's warmth and spice are perfect for Kapha dosha.
7 fl mL
$22.00

This delicious tea will make any heart smile. A blend of chamomile, rose, lavender, elderflower, marigold, lime flower and licorice. Lightens and uplifts the heart. Free of caffeine and 100% organic.
$6.95 (20 bags)
Balance Your Hormones, Balance Your Life
by Dr. Claudia Welch, MSOM

A woman's guide to combating stress, overwork, and hormone imbalance with clear and easy to understand information on how to restore balance. Dr. Welch combines the principles of Ayurvedic medicine, Oriental Medicine and western science to give women the tools they need to balance their hormones.
$18.00

When Pitta time comes around between the hours of 12:00 and 2:00 treat yourself to this Rose Petal Spread. It soothes Pitta dosha, is certified organic and makes a lovely gift.
10 oz
$11.95
At-home Shirodhara Unit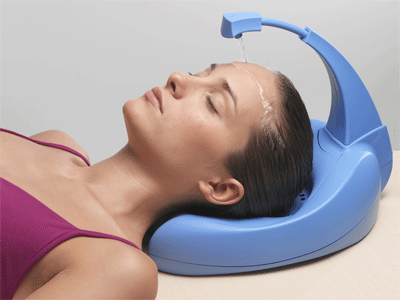 This individual shirodhara unit allows one to receive shirodhara in the comfort of their own home. What is shirodhara? It's a unique Ayurvedic therapy that has a profound effect on the nervous system. During the treatment, warm liquid (often oil) flows in a continuous stream over the forehead or 'ajna marma' where nerves are highly concentrated. The gentle pressure and soothing warmth of the oil allows the mind to go into a state of rest. This therapy benefits those experiencing stress, anxiety, insomnia and hypertension.
This unit is portable and includes a silent pump and heater. There is also an inbuilt temperature controller and timer.
Water Unit: 595 Swiss Francs ($653.00 last we checked)
Oil Unit: 695 Swiss Francs ($763.00 last we checked)
Unit is shipped directly from the producer. Price does not include shipping costs.
Contact us for more information (info@AyurvedaNextDoor.com).