Ancient medicines like Ayurveda and Chinese medicine are brilliant for their herbal wisdom, such as the benefits of turmeric. But even more so, they are brilliant for their genius in combining substances to enhance their effectiveness. Making meals, tonics or formulas to create a balanced, whole intelligence is a unique forte in ancient medicines.
Remember Mary Poppins? Just a spoonful of sugar helps the medicine go down… Well there's actually a lot of truth in that.
Enhancing The Power Of Turmeric
Turmeric's potency is enhanced when its bitter taste is balanced by the sweet taste. How does that work?
The bitter taste helps the body detoxify, while the sweet taste increases the bioavailability of the nutrients.  Sweetness allows the medicinal qualities of bitters to be carried into your deeper tissues.
Sweet means naturally sweet, sometimes almost bland. Rice, wheat, potatoes, parsnips, milk, butter or ghee are naturally sweet. Foods like bananas, berries, almonds and coconut are also sweet.
Combining Turmeric With Dairy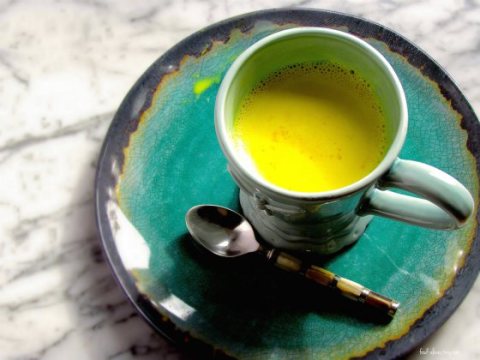 To supercharge the effectiveness of turmeric, add it to clarified butter or ghee whenever you cook. Stir it into milk whenever making a tea or smoothie.
In winter, on any given day, you will find in our kitchen a teapot full of steaming hot water colored deep yellow by generous slices of turmeric and ginger. But I would never have the tea on its own. There's always some type of milk, usually coconut and often a spoonful of ghee. Turmeric tea on its own is light and drying without the hydrating benefits of the sweet milk.
Turmeric offers relief from various kinds of aches and pains, as well as colds, congestion, sore throats and skin problems. Turmeric's reputation for reducing tumors, diabetes, inflammation and Alzheimer's has also become widely known.
That is why this ancient and popular Ayurvedic recipe for Golden Turmeric Milk is so effective.
If you look at traditional India, you see this medicinal relationship embedded in the cuisine: curries, yellow rice and golden turmeric milk are common in Indian kitchens. There golden milk was made fresh and served piping hot the minute anyone complained of a sore, an ache or an illness.
Last week I served it with goat's milk to a friend, but I personally prefer it with homemade almond or coconut milk. What is it about Ayurveda and milk? You can read about Ayurveda's love of dairy here, which is perhaps not what you think… Anyway, I give you both ways to make it – and hope you enjoy it, for goodness' sake!
Turmeric is said to balance all body types, cleanse the blood and lymph, help dissolve tumors and blood clots, improve circulation, promote healthy menstruation, strengthen muscles, heal soft tissue injury, decongest the liver, aid in the digestion of sugar, fats, and oils, and support those with diabetes and hypoglycemia. (NCBI: Potential Therapeutic Effects of Curcumin)
Since turmeric is such a hard worker, I leave you with a little food for thought, and 3 recipes for Golden Turmeric Milk~
"In every job that must be done, there is an element of fun. Find the fun… and snap, the job's a game!
And every task you undertake becomes a piece of cake
A lark, a spree,
It's very clear to see!"
~ Mary Poppins
Photos: Food-ALoveStory.com