Plano, TX Ayurvedic skin care line SkinVeda recently sent us some samples and we loved them (this is not a sponsored post, btw- just written out of our adoration for the products and the maker herself).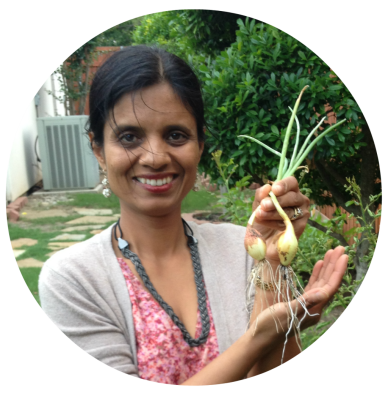 SkinVeda creator Shilpi Jain is a cosmetic formulations scientist with a rich history and love for Ayurveda. She's passionate about her products and eager for other Ayurveda lovers to see them.
We chatted recently about 2 powerful ingredients she loves and the great feedback people have with her products. SkinVeda products are being used for conditions like rosacea, eczema and acne (as well as normal skin conditions) and according to Shilpi, with good results.
People love how good it works.
Shilpi shared stories of people returning to tell her how happy they were because their condition or their child's condition had cleared up. We're not at all surprised. The products are professionally made and were really effective for us as well.
We tried the Narangi – Marigold Soothing Toner, the Aloe Vera – Narangi Gel Masque and the BB Physical Tinted Sunsreen SPF 50+.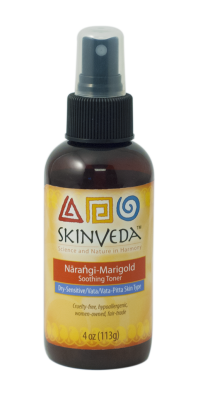 The scent of the products was stunning. They were beautifully scented, lightly scented and balanced in scent.  Each product had nice consistency and body. Nothing separated like some natural products just naturally do. The toner was hydrating and freshening on its own. The aloe mask also nicely hydrating, reducing redness and silky smooth. The tinted sunscreen blended easily into our skin color, wasn't heavy or oily and added some moisture.
We'll definitely go back for more.
So what's inside these products that make them so effective and yummy? Here's a sampling of 8 ingredients Shilpi uses in her products, plus the benefits and uses of each. Don't miss the DIY facial mask recipe she's included as well.
Inside SkinVeda Ayurvedic Skin Care Products
Oat beta glucan
Oat beta glucan is a powerful immune-enhancing compound present in nature. This unique compound primes the innate immune system to help the body defend itself against viral and bacterial invaders. It also stimulates the hyaluronan synthesis of fibroblasts and is like a natural anti-histamine. It's great for people with rosacea like symptoms, extreme sensitivity or redness due to post laser or a facial treatment or excessive sun exposure.
You can find Oat Beta Glucan in SkinVeda's Replenishing Serum.
Amla
Among the most important medicinal plants in Ayurveda Gooseberry has been in safe use for thousands of years. Traditionally used to rejuvenate body cells and tissues, Amla (or Emblica officinalis or Indian gooseberry) fruit extract is a powerful antioxidant with pronounced adaptogenic qualities. Emblicanins is the main ingredient of Amla comprising of Gallic acid or Ellagic acid structures attached to the Vitamin-C like 2 keto glucono lactone. This makes it a more stable form of vitamin C naturally present with better free radical scavenging properties.
It's skin brightening and keratolytic effect makes it a great choice for facial products and for Pitta dosha skin types as it has adaptogenic and cooling properties.
You can find Amla in SkinVeda's Amlaki Chamomile Cleansing Gelee, Amlaki Cocoin Milk and Ashwamilla Toner and Neem Amla Clarifying Masque.
Calendula
Calendula (or pot Marigold) has a long history of use as a wound healing botanical. When applied in either a tea or an ointment, Calendula is the first choice for many types of wounds including cuts, abrasions, burns and inflammations, making it an important part of any first aid kit. Calendula effectively speeds wound healing and relieves pain and inflammation and its antimicrobial properties will also prevent infection. Calendula also promotes healing and tissue reconstruction by stimulating fibroblastic activity. Present in Calendula Horsechestnut Firming & Moisturizing Cream and Replenishing Serum, this ingredient is truly a pot of gold!
Sandalwood Seed Extract
Santalbic acid extracted from the seeds of sandalwood tree is a powerful detoxifying ingredient. It has been extensively studied in Germany for it's ability to boost cellular detoxification mechanisms and to alleviate adverse symptoms of skin inflammation. The beneficial effects provided by Santalbic acid also include an increased firmness and minimization of the appearance of cellulite skin.
You can find this Santalbic acid in SkinVeda's Ayurvedic Body Sculpting Cream. Sandalwood powder is also found in SkinVeda's Rose Sesame Firming Masque where it shows benefits for detoxification, and with sebum regulation.
Simple DIY Facial Mask:
Mix sandalwood powder and rose water with a half teaspoon of apple cider vinegar or apple juice and apply on your face as a mask to clarify, brighten and detoxify your skin.
Neem Oil
Neem Oil liminoids have been tauted for their anti-fungal, anti-inflammatory and anti-viral properties and widely used as a natural insecticide. Neem oil is also beneficial for your skin. All parts of neem have benefits for the skin due to the presence of carotenoids and neemoids and vitamin E that easily absorbs into the skin and improves skin texture. Neem oil contains an aspirin-like compound that helps with acne conditions by ridding the skin of acne-causing bacteria. It also helps reduce redness and inflammation.
Shilpi recommends neem oil for acne and for mature skin. You can find Neem in SkinVeda's green clay masque – Neem Amla Clarifying Masque as well as Curcuma Narangi Gentle Foaming Cleanser and Amlaki Chamomile Cleansing Gel.
Sesame Seed Oil
The use of warm, cold pressed Organic sesame seed oil is extremely beneficial for abhyanga (self-massage) and lubricating your skin. It also helps cleanse the pores, and penetrates the lipid barrier, replacing tired, toxin-clogged lipid cells with fresh lipid cells.
Present in Calendula Horsechesnut Firming and Moisturizing Cream as well as Replenishing Serum, this is a must have for your kitchen pantry.
Lemongrass Oil
Lemongrass Oil is known for it's balancing properties. The primary chemical component in lemongrass is citral which has strong anti-microbial and anti-fungal properties. Its leaves and stems are high in folic acid and essential vitamins such as pantothenic acid (vitamin B5), pyridoxine (vitamin B-6) and thiamin (vitamin B-1).
In Ayurveda, vata dosha when out of balance will benefit from Lemongrass due to its balancing effect on the skin for toning and helping with inflammation. The fresh citrusy and clean scent is very calming.
You can find this medicinal oil in SkinVeda's Vata dosha products: Calendula Horsechestnut Firming and Moisturizing Cream, Narangi Marigold Soothing Toner, Aloe Vera Narangi Gel Masque and Curcuma Narangi Gentle Foaming Cleanser.
Tulsi
Tulsi or Holy Basil (Ocimum sanctum) is probably the most treasured, miracle herb in Ayurveda. The pharmacologists have confirmed that Tulsi has significant anti-stress properties due to the presence of eugenol and ursolic acid. Both help lower blood sugar levels and makes Tulsi a COX-2 inhibitor. It is also a natural source of salicylic acid and wonderful for congested pores and acne.
Tulsi leaf extract is part of SkinVeda's Tulsi Pore Refiner andTulsi Oil is in these SkinVeda products: Amlaki Cocoin Milk, Ashwamilla Toner and Amlaki Chamomile Cleansing Gelee.
Photos: SkinVeda.com