We hope that you have enjoyed the wisdom and clarity from Sadhguru through the various videos, blogs, and articles that you may have perused. Perhaps you have picked up tips on how to live happier, with less stress, and more joyfully, or you have recalled Sadhguru's jokes or anecdotes and it brought a smile or sparked a moment of clarity.
We seek inspiration from various sources, but it may be challenging to sustain it.  Having a powerful tool that you can employ daily, empowers you to put your life on self-start; which means you're in-charge of your happiness, joy, and peace.  Cultivating your mind, body, and emotions is of utmost importance as it enables you to create your life the way you want it.
Sadhguru will be personally offering Shambhavi Mahamudra Program in Chicago, IL May 2-3, 2015.  It is a privilege to learn this self empowering practice directly from Sadhguru.
What do you need to do to participate in the program with Sadhguru?
First, you need to to attend Inner Engineering Online, the 7-session course that lays the foundation for the Shambhavi Mahamudra program. Using methods from the distilled essence of the yogic sciences, you will intellectually explore the ABC's of life and learn practical wisdom to manage your body, mind, emotions, and the fundamental life energy within.
Watch video: What is Inner Engineering?
A mother, an engineer, a student, a musician… countless people just like you, with similar life situations, are making use of the tools and solutions that Inner Engineering offers to their daily lives. Click here to read live reviews of how they are benefiting.
As the Shambhavi kriya is an energy process, it is only imparted in a live program.  This 21-minute practice kriya is a powerful and purifying energy process that incorporates the breath. The kriya brings your entire system into alignment so that your body, mind, emotions and energy function in harmony, establishing a chemistry of blissfulness.
Watch video: Sadhguru on Shambhavi
When practiced regularly this 21-minute kriya can bring the following benefits into ones life:
Improved sleep quality and increased energy levels

Helps purify the five elements (earth, water, fire, air, space) in the body leading to pleasantness in the body, mind and emotion

Relief from chronic ailments

Access to the intelligence and competence within, which is the very source of creation

Greater peace and joy in everyday life
Done in a simple seated asana or posture, Shambhavi gives you the access to your deepest life energies and makes it vibrantly alive. It does not require any physical fitness or previous knowledge of yoga and is easy to integrate into any lifestyle.
Click here to learn more about the program.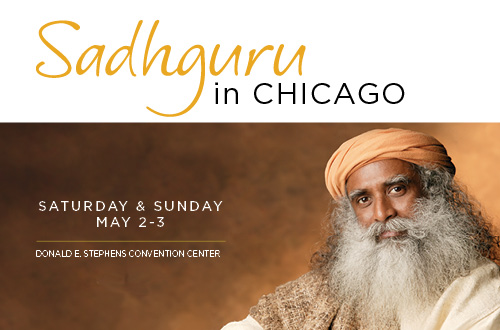 Program Details:
Saturday &

Sunday, May 2-3, 2015
Timings:
Saturday: 3:00pm to 7:30pm

– (check-in 1 hour before)


Sunday: 7:30am to 8:00pm

–    (check-in 1 hour before)
Venue:
Donald E. Stephens Convention Center
5555 North River Road, Rosemont, IL 60018
Special Early Bird Offer: $250
(discounted rate valid till April 18th, 2015)
General Seating: $285
Special rates for your travel and stay will be sent to you upon registration. The program venue is conveniently located close to the Chicago Airport and is easily accessible via CTA bus and train service. For support regarding the Shambhavi Mahamudra Program in Chicago, please write to: Chicago@IshaUSA.org