If you're looking for Mother's Day Giveaways, this one's got dreamy skin care products we love (and more soothing goodies), plus it's tailored to your Ayurvedic skin type so it's perfect for any Mama!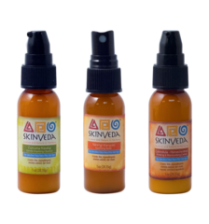 SkinVeda founder Shilpi Jain incorporates natural, Ayurvedic herbs into her supremely crafted skin care line. Shilpi's got a background that spells success: she's a Cosmetic Formulations Scientist with a ton of experience. Her products are beautifully and delicately scented, highly effective (check out the testimonials) and for natural products, they hold together like the pros. We tried them and loved them to pieces.
This Gift Basket Includes…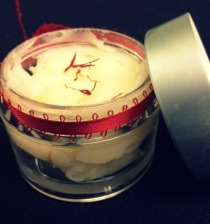 This Mother's Day gift basket includes 2 SkinVeda products: an Ayurvedic Ghee-Saffron Lip Balm (a new SkinVeda product), a skin care Travel Kit For Your Dosha (like this one) plus a Tulsi Rose Tea Box and a candle (these last 2 items purchased by SkinVeda).
So What's Your Skin Type?
In Ayurveda, there are three principles or doshas that create each and every one of you. The doshas are very real manifestations of the 5 elements (earth, air, fire, water and space). When these elements or doshas lose their natural state of balance (due to diet, lifestyle, relationships), symptoms may occur.
Take SkinVeda's Dosha Test to find your Skin Type.
1. Vata Dosha is formed of Air and Space. Vata skin is dry and wrinkles.
2. Pitta Dosha is formed of Fire and Water. Pitta skin is oily and prone to rash and redness.
3. Kapha Dosha is formed of Water and Earth. Kapha skin is soft and smooth.
How To Enter
Choose one of the 3 options below to enter the giveaway. The giveaway runs from Thursday, April 23, 2015 at 6pm est to Sunday, May 3, 2015 at 5pm est. The winner will be randomly chosen.