By SAMA founder Karyn Chabot, DAy, MA, LMT
This ancient Ayurvedic recipe from India is a mixture of basmati rice, mung dal (a legume), ghee (clarified butter), and mouth watering Indian spices.  The ingredients can easily be found at any health food store.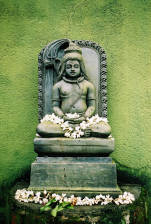 Kitchadi is often called 'Food of the Gods', 'Food that creates space in the body' or 'The Ayurvedic Food'.  This recipe has a soft, unctuous texture.  Considered a sacred and perfectly balanced food, it is easy to digest and imparts strength, vitality and deeply nourishes all the tissues of the body.
For centuries, yogis and swamis of India have eaten this food and the Ayurvedic doctors have been lovingly giving it to their patients as the ultimate food to mono-fast on for three days to two weeks at a time, or longer.  It is the food of choice during the Ayurvedic cleansing and purification process, otherwise known as pancha karma.  Its gentle laxative and detoxification effects help restore and reverse the aging process of the cells. It is naturally a free radical scavenger.
The proportions are usually 2 parts rice to 1 part mung dal, but both these and the spices can be varied according to taste preference and individual Ayurvedic constitutional needs.

Kitchadi Recipe (tri-doshic)
2 cups of green or yellow mung dal (whole or split)
2 cups of white basmati rice
2-3 inches of fresh ginger, peeled
2 tblsp of fresh shredded unsweetened coconut
1 handful of fresh cilantro leaves
2 tblsp of ghee
1 heaping tblsp of fennel seeds or (crushed)
1 heaping tblsp pf coriander seeds or (crushed)
1 heaping tblsp of cumin seeds (crushed)
1 tsp of brown or black mustard seeds
1 heaping tblsp of cardamom powder or 10 pods
Rock salt to taste
Black pepper to taste
1-2 tsp of turmeric
1 bay leaf
Squeeze of lime juice to taste
Wash and then soak mung dal overnight. Wash again in the morning. Wash the rice until water is clear. In blender, liquefy cilantro, fresh ginger and coconut with some water.  Heat a large saucepan and add the ghee, fennel, coriander, cumin, mustard seeds, cardamom, and black pepper.  Be sure the ghee does not smoke.
When the mustard seeds have started to pop, add the liquefied ginger, coconut, and cilantro.  Mix on medium heat for 5 minutes, and then add the bay leaves, turmeric and salt.  Stir until lightly browned.
Stir in the mung dal and rice.  Pour in about 8 cups of water, bring to boil, and then simmer at medium low heat, lightly covered until the water has evaporated and the rice and dal are soft and unctuous.  From this point, the kitchadi should be done in approximately 20-25 minutes.  Halfway through, add lime juice.  If needed, add more water.
Serve kitchadi topped with a squeeze of fresh lime and sprinkle of coconut and chopped cilantro leaves.  Kapha and vata people can add a dash of black Krishna salt.
Bless your food and be thankful that you are able to assimilate, absorb, and deeply enjoy this meal.  Chew carefully and eat with pure awareness and gusto!  Eating can be a meditation!
Serves approximately 3-6 people.
Note: It is best to use organic ingredients whenever possible.
About Karyn Chabot, DAy, MA, LMT,
Karyn graduated from The Ayurvedic Institute in New Mexico in 1997. She studied Vedic Science for 2 years at the Master's Level at the Maharishi University and graduated with her Master's degree in Ayurvedic Medicine from Goddard College. She is a licensed and nationally certified Massage Therapist and instructor since 1998. She founded SAMA: Sacred Stone Academy of Massage & Ayurveda in Newport, RI in 1999. It became a state-approved school for licensure in 2012.  She pioneered the Hot Stone Massage Therapy movement in 1999 and was adjunct faculty for Bristol Community College. She is a certified Ayur*Yoga Instructor and a nationally certified yoga instructor from the Nosara Yoga Institute. She graduated from the Ayurveda-Yoga Institute of NYC, a 2nd Degree Reiki Practitioner, a certified Quantum Touch therapist,  a certified Ayurvedic Beauty Specialist, a certified Fitness Trainer and Nutritionist, and also became certified in modules I and II of The Bodytalk System. She studied Marma Therapy and bodywork with Dr. Vasant Lad, Dr. Vaidya Mishra, and Dr. Naina Marballi at Ayurveda's Beauty Care in NYC. She also took level one of The Yuen Method of Healing, and holds a certification as an Ayurvedic Pancha Karma Therapist and Medical Thai Therapist. She has been a student of Jyotish Vedic Astrology for 5 years. Karyn is a member of the American Massage Therapy Association, The National Certification Board of Therapeutic Massage and Bodywork, and her school holds a professional membership with the National Ayurvedic Medical Association and The Rhode Island Board of Governors for Higher Education. 
Photos: Morguefile.com