One of my favorite Ayurvedic hot beverages is a delicious faux cappuccino made with Raja's Cup, a MAPI herbal coffee substitute. In the fall and winter seasons this is the after-dinner drink of choice within my Ayurveda family of friends.
Every time I have this Ayurvedic 'Cappuccino' I'm in love. The first time I was awed that it wasn't coffee. It was that similar. But I'm not a coffee drinker or a caffeine addict of any kind so don't take my word for it. According to a MAPI double blind taste test 'coffee drinkers thought that Raja's Cup was actually coffee'.
Raja's Cup is a grain-free herbal tea blend of ashwagandha, licorice, clearing nut tree and coffee senna. It's dark in color, slightly bitter in taste with a hint of sweet and a big dose of earthy. It feels smooth on the mouth and it's definitely intense and full-flavored.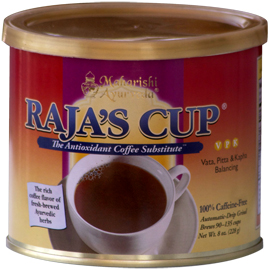 We always doctor it up in one way or another so it's never just a plain bitter tea in our household.
Of all the variations we tried this is my favorite recipe, a yummy faux 'cappuccino' that satisfies the sweet tooth and warms the heart.
Ayurvedic 'Cappuccino'
Follow directions for preparation of Raja's Cup herbal tea and let steep.
In a small saucepan warm milk or cream of your choice to just near a boil.
If you have a cappuccino machine steam the milk of your choice. Place the wand just below the milk's surface to introduce air into the milk and create some foam.
Next layer the following into a mug or cup in the order listed.
1/3 Raja's Cup herbal tea (strained)
1/3 warmed milk
1/3 foam, whipped cream or whipped cream alternative*
(*We like Tru-Whip healthier whipped topping)
Sweeten to taste.
Sprinkle with cinnamon, nutmeg or cardamom and enjoy.