Ash Temin and Laurel Valchuis have a cool meal prep business in Boston that Ayurvedists will love.
alFreshCo offers freshly prepared meal kits with ingredients sourced from local farmers so you can easily cook wholesome meals at home. Get a healthy meal kit or kitchari kit delivered (by bicycle!) or find a local pick-up point near you.
Here's how it works: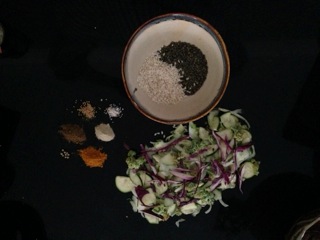 Each meal kit contains everything you need for a meal for two people, washed, chopped and measured. Cooking time is about 20 minutes. Order your kits by Friday and receive or retrieve them Monday evening. Healthy, wholesome food ready for you to cook.
There's so many great things about alFreshCo.
alFreshCo meal kits support the local food system. Laurel relies exclusively on farms within 25 miles of Boston for produce, which just fills our hearts. With a background in agribusiness consulting and several stints on farms all over the world, Laurel has created another avenue for local farms to succeed.
alFreshCo meal kits are a great way to learn about your local food supply plus you're eating in harmony with the earth, a cornerstone of Ayurvedic health.
Ash (who's an Ayurvedic Health Consultant in Cambridge) creates the Ayurvedic Curry or kitchari and lends a hand in the nutritional aspects of the business.
I really connected pretty strongly with Ayurvedic ideas: eating seasonally, that the earth provides the foods we need at any given time of year, and that we've become so disconnected from that, creating diseases in ourselves and in the earth.

The qualities that are present in my body are directly connected to the world around me, tangibly and powerfully through the food I eat, which can be either a medicine or a toxin.
The Ayurvedic Curry is available during selected weeks of the year, provides a traditional method of cleansing and can be purchased in quantity – 1 day, 3 day or 5 day kits. Each kit provides enough food for 2 people.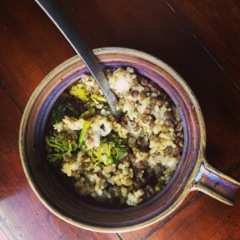 We asked Laurel about the response to the kitchari.
People are learning about Ayurveda, which some have heard of and some haven't. It's been interesting to see people jump in at different learning levels. Some who know what it is, others are really excited that there are ways to cleanse without starving yourself or going all raw. The fun part is seeing people go through that enlightenment process. It's been a good response.
You can vote for alFreshCo in Mass Innovation Nights foodie challenge. A win for them means greater visibility and a stronger local food economy which is a win for Ayurveda as well.
Photos: Laurel Valchuis