Ayurveda and Siddha Doctors (among other traditional medicine practitioners) will often suggest a mix of herbs and spices along with specific foods as part of a "prescription" if you will, to restore balance and health.
For me, my Ayurvedic blend includes cumin, turmeric, coriander and fenugreek. This blend (in specific proportions) was prescribed to me by an Ayurvedic Doctor several years ago and continues to have benefit.
From the Siddha Doctor – strictly cumin and coriander (turmeric is okay to add because of it's other beneficial properties, but it increases heat). These spices to be lightly sauteed in ghee (clarified butter), with vegetables added.
Check with an Ayurvedic practitioner for the best blend for you. Or you can experiment if you know your Dosha and add spices that work for you.
This blend becomes the basis for all that I cook. I use this blend rather than whatever is part of a traditional Indian recipe – or I make up my own recipe with whatever veggies I have on hand.
Traditionally, people knew what foods to eat on which days, how much and with what spices. They also knew which foods not to eat based on what they had the day before. Foods were prepared based on this along with knowledge of who was at the house and if they were sick or well.
Traditionally no one ate food that was more than a 1-2 hours old. No leftovers! Everything always made fresh.
For me, I use Yoga as a starting point. Because I practice Hatha Yoga I tend to run hot, I lean toward the side of "Ushna" (which roughly translates to "heat") and my body benefits from cooling spices and cooling foods. I also like to err on the side of High Pranic and Sattvic foods that enhance my system and my practice. Only fresh versions – not frozen, canned or otherwise packaged. Here's a list:
Sattvic Foods

alfalfa sprouts
almonds
amaranth
anise
apple
apricot
artichoke
arugula
asparagus
azuki beans
banana (ripe)
barley
basmati rice
bean sprouts (all)
bee pollen
berberies
black beans
black eye peas
black lentils
blackberries
blueberries
Brazil nuts
broad beans
broccoli
Brussels sprouts
buckwheat
butter
buttermilk (fresh)
cabbage (cooked)
cantaloupe
cardamom
carob
carrots
cashews
cauliflower
celery
chard
cheese (fresh made)
cherries
chestnuts
coconut
collards
corn (fresh)
cornmeal
cranberries
cream (sweet only)
cucumber
currant
dates (fresh)
fava beans
fennel
figs (fresh and dried)
fruit juices (fresh)
ghee (clarified butter)
grapefruit (sweet)
grapes
green beans
green peas
honey (raw unheated)
honeydew melon
kale
kohlrabi
lettuce
licorice
lima beans
macadamia nuts
mango (ripe)
maple syrup
milk (fresh raw pure)
millet
Mother's milk
mung beans
mung dahl
mustard greens
navy beans
nectarines
oats
okra
oranges (sweet)
paneer (Indian cheese)
papaya
parsley
parsnip
peaches
peanuts
pecans
persimmon
pine nuts
pineapple (sweet)
pinto beans
plum
pomegranate
prunes
pumpkin
quinoa
raisins
raspberries
rice
rose hips
rutabaga
saffron
sesame seeds
sorghum
soy lecithin
spinach
strawberries
sugar cane (raw)
summer squash
sunflower seeds
sweet potatoes
tan lentils
tangerines (sweet)
tepary beans
turnip
walnuts
watercress
watermelon
wheat
wild rice
winter melon
winter squash
Yams (no sweet potato)
yogurt or curd (fresh)
zucchini
A Yogi's Lunch: Summer Vegetable Curry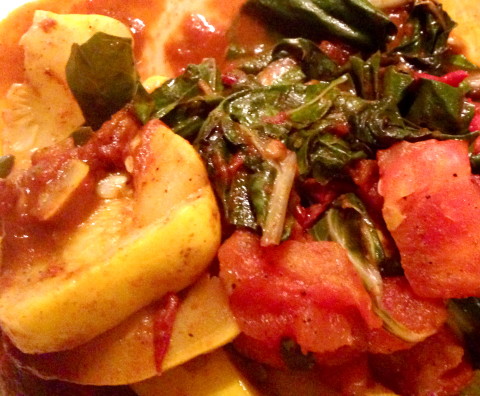 This recipe is a "curry" of sorts with my spice mix, a tiny bit of Garam Masala and foods that are generally cooling as well as high pranic and satvic.
The squash, tomato and Swiss chard are local organic produce from my Michigan hometown Community Supported Agriculture (CSA); spices from my local Indian grocer (these can be found at most grocery stores and organic food stores too).
Serving Size: Makes enough for two when served with rice.
Prep time: 10 minutes
Cooking time: 10 minutes
Make ahead: No
Ingredients
1/4 – ½ cup water
1 fist-sized squash sliced
4-6 Swiss Chard leaves chopped (include the stems if you like)
1 fist-sized tomato diced
1 TBS Ayurvedic spice mix
1/8 tsp Garam Masala (I make a blend with no onion, garlic or red pepper – a recipe from Isha Foundation)
1TBS Ghee
Salt to taste
My Ayurvedic Spice Mix
6 tsp coriander
2 tsp cumin
2 tsp fenugreek lightly toasted and freshly ground
2 tsp turmeric
Directions
Melt ghee in a sauté pan and add spices. Saute slightly until the fragrances are released, then add the tomato. When the tomato starts to break down and a sauce starts to form, add the other vegetables and stir until coated with the sauce. Add water – just enough to steam veggies in. Cover and simmer for about 5-7 minutes. Stir and add salt to taste.
Serve over rice (it's very yummy plain too!).
Substitutions: You can use Zucchini or Summer Squash instead of the variety I used. You can also substitute Kale for the Swiss Chard. Kale needs a bit more cooking though.