Ayurvedic practitioners have certainly been busy. A handful of new Ayurveda books were published recently, all with some serious contributions to modern nutrition and wellness.
These 5 came to our attention and we had to share.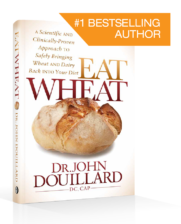 1. Eat Wheat
If you or someone you love has a gluten or dairy intolerance, you'll definitely want to check this out.
As you know, the gluten-free diet is one of the most widespread diets today, adopted by restaurants and major food product companies everywhere. But gluten-containing grains have been consumed for thousands upon thousands of years. Are we really just now intolerant of gluten or does the issue lie elsewhere?
In his new book 'Eat Wheat', Dr. John Douillard gets to the root of the problem with wheat – fixing a weak digestive system. Dr. Douillard suggests that once digestion is back on track and toxins have been eliminated, you can comfortably and in moderation, get wheat back into your diet.
His approach combines ancient Ayurvedic medicine with modern day research. When the body is gently cleansed and appropriate eating habits are re-established, the body, mind and emotions really do begin to function at their best. Dive into 'Eat Wheat' to get a bigger picture of your health. This is groundbreaking stuff.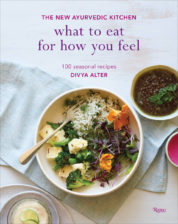 2. What To Eat For How You Feel
Divya Alter's new cookbook 'What To Eat For How You Feel' contains 100 recipes arranged into 3 seasonal chapters. Nervous about trying Ayurvedic cooking? Don't be! These recipes are adapted for the western cook, moving beyond the boundaries of India into Asia, Italy and France. You'll also find Ayurvedic staples like cultured ghee and fresh cheese. So now you can look forward to a variety of Ayurveda-approved ways to get through your day.
Thank you Divya!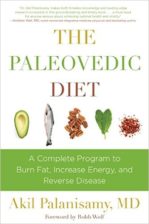 3. The Paleovedic Diet
A Complete Program to Burn Fat, Increase Energy and Reverse Disease
How do the Paleo diet and Ayurveda stack up? 'The Paleovedic Diet' is your answer. It's the best of Paleo along with the time-tested, ancient wisdom of Ayurvedic medicine, the natural medicine of India. Dr. Akil Palanisamy, MD separates fact from fiction on confusing dietary issues like gluten sensitivity, carbs, fats, superfoods and supplements. His three week program utilizes delicious food, healing spices and transformational detox methods to transform your body and mind.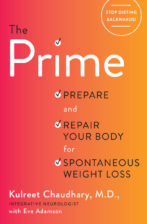 4. The Prime
Want to stop dieting? Dr. Kulreet Chaudhary, Neurologist and director of Wellspring Health at Scripps Memorial Hospital, noticed an unexpected side effect to her recommended diet and lifestyle tools – weight loss. Now that's something we can deal with.
By reducing toxins and bolstering your body's natural ability to detoxify, you can actually activate your body's own weight-maintenance system.
"The Prime is a wonderfully crafted amalgamation of ancient wisdom with leading-edge science." – David Perlmutter, MD, FACN, New York Times bestselling author of Grain Brain and Brain Maker
Who wants to think about weight loss anyway? We like it when it happens naturally.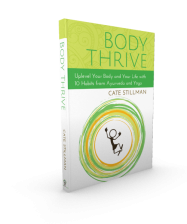 5. Body Thrive
Cate Stillman's 'Body Thrive' decodes the essential teachings of Ayurveda into 10 simple body habits. This is the stuff that really accelerates life changes. It's a refreshing, straight-forward approach that goes beyond diet, right into the behavior patterns that shape your health and wellbeing. An essential for anyone on the Ayurveda path. Simple, clear, approachable, and most importantly, doable.
Are these Ayurveda books on your wish list? Or have you already started one of them? Let us know what you're reading in the comments below!
Image: Unsplash.com