In a quiet neighborhood on the north side of Chicago is Hamsa, an Ayurvedic treatment center and apothecary. Ayurvedic practitioner Monica Yearwood offers the royal treatments: panchakarma, lifestyle coaching and body therapies that change seasonally (ooooh!). She's also a gifted creator of Ayurvedic oils and serums (double oooooh!).
Monica was originally drawn to study transpersonal psychology about 12 years ago,  but came across the Maharishi University of Management and fell in love with Ayurveda. Later she went on to study with Dr. Light Miller and Dr. Marc Halpern.
Monica's handmade creations include authentic Ayurvedic body oils and facial serums with Ayurvedic herbs and carefully selected essential oils. Her products are beautifully packaged and include Marmani Oils for anointing the marma points, dosha-specific body oils known as thailams and finely crafted doshic facial serums.
We eagerly asked Monica these 5 beauty questions because we just had to know…
1. What's your beauty routine?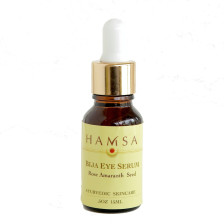 I wake up at about 6am in the winter and meditate. I use a dry skin brush almost daily for lymph stimulation and use one of my body oils.  Right now I'm into my Shodashi Oil and my skin is super soft!  I also use my Bija Eye Serum religiously around my eyes.  I am always switching things up for my facial oil.
I recently made a concoction of Bio Sea Ferment and essential oils that has to stay refrigerated.  I am still testing it on myself and letting my friends use it, but so far I'm quite impressed and I think it may be my next product on the shelf.
2. What do you suggest most often to your clients?
Meditate daily.
3. What ingredient are you currently totally ecstatic over?
Bio Sea Ferment:  It is extraordinarily hydrating and erases fine lines!  I also am enthralled with ambrette seed essential oil for its ability to stimulate collagen production.
4. If I'm coming to see you for the first time, what experience/product must I have?
Any of our thailams.  Self-abhyanga massage is a life changer.
5. Where do you go to indulge?
Valeo Chicago downtown for their Turkish hammam and amazing massages!